Mission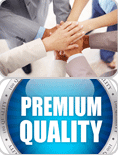 The concept that quality can be managed is fundamental to the success of all business operations for it implies that there is sufficient control over daily work activities to guarantee that the goods and services delivered are those that have been ordered by the customers.
Quality management demands sincere adherence to the position that all personnel can contribute: that the person performing a particular task in a process is the owner of that task and is therefore knowledgeable about what needs to be done to improve it.
The quality environment encourages communication and co-operation between management and staff. Motivated by the shared quest for quality improvement, all personnel shall strive to bring increased value and satisfaction to the customers.
It is well known that continuous quality improvement is necessary to enhance an organization's competitive position. Fulfilling customers' requirements fosters goodwill and goodwill is something that the competition cannot undersell nor destroy.