Elesa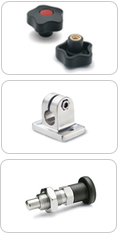 For more than 70 years Elesa has been an innovator in the design and production of plastic and metal products for industry.
Their vast product line of more than 30,000 products includes clamping levers, clamping knobs, lift and pull handles, fixed and revolving handles, latches and connecting clamps to name a few.
Their quality driven manufacturing has earned them 35 international awards and their innovations have provided more than 150 patents worldwide.
Gould Fasteners is proud to have earned the trust of Elesa to be their authorized distributor.

Elesa is ISO Certified
For More information, please visit the website of Elesa