Micro Plastics Inc.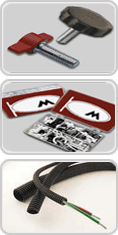 Over its 40-year history, Micro Plastics Inc. has been manufacturing quality standard and custom nylon fasteners. The benefits of those plastic components' strength to weight ratio, non-corrosive and non-conductive properties, flexibility, inherent design versatility and low cost are simply not to be denied. Micro Plastics today is the world's largest producer of threaded nylon fasteners. There are presently over 20,000 different quality products in the company's line including nuts, thumb screw knobs, washers, insulators and spacers; panel fasteners and hole plugs; wire handling hardware and accessories; circuit board hardware; hose clamps and installation tools and cable ties.

Micro Plastics Inc. is ISO Certified
For More information, please visit the website of Micro Plastics Inc.