HellermannTyton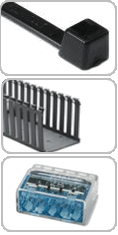 Since 1969, HellermannTyton has been a leading manufacturer of cable management, identification and network connectivity products to supply a wide range of industries including aerospace, data communication, rail, industrial automation, renewable energy, and wire processing.
Their products include routing, protecting and insulation, bundling and securing, network connectivity, wire connectors and identification items such as heat shrinkable labels and wire labels
Manufacturing in 34 countries world wide, HellermannTyton offers high quality products in an integrated design approach.
Gould Fasteners is proud to be the only Authorized Distributor for HellermannTyton in Canada.

HellermannTyton is ISO Certified

HellermannTyton is MILSPEC CERTIFIED
For More information, please visit the website of HellermannTyton