MilSpec Fasteners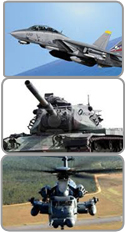 A United States defense standard, often called a military standard, "MIL-STD", "MIL-SPEC", or (informally) "MilSpecs", is used to help achieve standardization objectives by the U.S. Department of Defense. Standardization is beneficial in achieving interoperability, ensuring products meet certain requirements, commonality, reliability, total cost of ownership, compatibility with logistics systems, and similar defense-related objectives.
Defense standards evolved from the need to ensure proper performance and maintainability of military equipment. For example, due to differences in dimensional tolerances, in World War II American screws and bolts did not fit British equipment properly and were not fully interchangeable.
At Gould Fasteners we strive to meet all of your fastener requirements. We carry a broad range of product lines from quality manufacturer that are Mil-Spec certified.
For parts not listed here please contact Gould Fasteners at
1-800-267-8997 or 905-677-8253.

If you would like more information about these products send us an info request by clicking the Request Info button below.
Gould Fasteners is Controlled Goods Certified.